Does the flooring in your commercial garage or automotive shop, even your personal garage, have cracks and stains, becoming unsightly, even embarrassing? With a professionally applied garage floor coating, it doesn't have to be!
A garage floor coating with polyurea/polyaspartic can transform a dirty, grimy, ugly space into a brighter, cleaner space looks good enough for a mother-in-law suite! Or create a garage floor that is extremely durable, tough, and is long-lasting.
You may be asking, "Is it worth coating your garage floor?", and the answer is yes, consider the following benefits a garage floor coating can provide:
1. Extremely Durable – Polyurea/polyaspartic garage floor coating is exceptionally durable and resilient, holding up to heavy equipment and machinery. A polyurea/polyaspartic coating will give your garage floor the ability to hold up to hard impacts and surface abrasions, and chemical or oily spills common in a garage.
2. Moisture and Stain Resistance – A polyurea/polyaspartic garage floor coating is moisture resistant. This gives you the ideal garage floor where leaks and spills are frequent. With a high resistance to melting frozen water, petrochemical spills, and other contaminants that can be wiped up easily or cleaned with basic soap and water.
3. Resurfaced Quality – For a commercial garage floor that is already cracked, damaged, and stained, a polyurea/polyaspartic garage floor coating can repair the floor, giving it a new self-leveling surface that will hide the previous damages, marks, and stains.
4. Limitless Designs – Polyurea/polyaspartic garage floor coatings are available in an unlimited number of colors and designs. This is ideal for a showroom or converting a garage to a live-in quarter. You can even customize your business garage floor with your company logo!
5. Fast Installation – A polyurea/polyaspartic garage floor coating is fast to install, minimizing the amount of downtime for your business.
What makes a garage floor crack?
Here are four common reasons for cracked garage flooring. 
Shrinkage: Cracks caused by shrinkage are common and not anything to cause concern. It is part of the natural curing process.  
Settlement: The soil under any structure will move, shift, and sink. Over time, this settling process is normal, but it does put pressure on the garage flooring and results in cracking.  These cracks are more serious because they will usually continue to grow, leaving the equivalent of open buckets collecting water., and that creates more problems. 
Among the problems created are the garage flooring sinking in areas and an increased risk for flooding. Some areas of a garage floor will develop more pressure from weight, like parked vehicles. That weight causes more cracks and settlements. The wider the crack, the more serious of a problem it can create. The sooner you identify the issues and have a professionally installed garage floor coating the better.
Poor Installation: The original construction is a frequent cause of cracking garage floors. It can be from no rebar reinforcement being used, the slab is too thin, an improper base, the soil being disturbed or uneven, or an insufficient amount of gravel.  
This allows any water built- up in the garage floor to seep into or under the house. This needs to be addressed sooner than later, with either a garage floor coating or adding another layer to the original garage floor slab.
Flooding or Underground Water Source: Water can be the enemy to your garage and home. It plays a huge role in crack formations of garage floors and house foundations. This is especially so when water can't drain away. If there is heavy clay or other types of dense soil present, it will cling to any excess moisture, freeze in the winter, and expand, cracking the slab as it expands. This is common near garage doors because this is where the most exposure to cold and frost occurs.  A professional garage floor coating can repair the crack and an inspection around the perimeter to find where water is getting in and fixing it is recommended. 
Are cracks in a garage floor serious?
Not all cracks in a garage floor need to cause concern, but if you have seen any of the following, it may be worthwhile having them inspected:
A lot of cracks
Deep and wide cracks
A crack running up from the floor to the garage wall
Cracks that are becoming considerably worse rapidly
Your home and garage are on a hillside
Your garage has space under it
If the flooring is unlevel on either side of the crack
Water is pooling in areas of the garage
Can you put polyurea/polyaspartic over cracked concrete?
Depending on deep and wide the cracks are in your garage floor, and where they are located, it is best to have a professional that knows how to fix cracks in a garage floor. The initial answer to this question when you google it is no because poly aspartic does not adhere to the concrete.
However, there are newer versions of this product and newer methods where it will adhere and result in a beautiful garage floor. The polyaspartic garage floor coatings today are more flexible than the epoxy material that comes with the DIY garage floor repair kits and methods.
What is the best garage floor coating?
Today, the new kid on the block is taking the garage floor coating market by storm – Polyaspartic. The appearance is indistinguishable from an epoxy garage floor coating, but there are some significant differences, starting with durability. This gives you a longer-lasting floor regardless of dropped tools and heavy equipment!
The mixture has a lower odor and dries within two hours. This makes the installation process less obnoxious. Even with exposure to all-day sunshine, polyaspartic flowing won't fade or yellow like epoxy garage floor coating.
A downside to polyaspartic garage floor coating, it can be slippery. This can be offset by adding a traction material in the last coating. And it is vulnerable to battery acid whereas epoxy can withstand that chemical interaction better.
Is a garage floor coating slippery?
Yes, most materials used for garage floor coatings are non-porous which means they'll be slick, just as we mentioned about polyaspartic. You can upgrade your installation with a traction material added to the final layer of coating to eliminate this problem.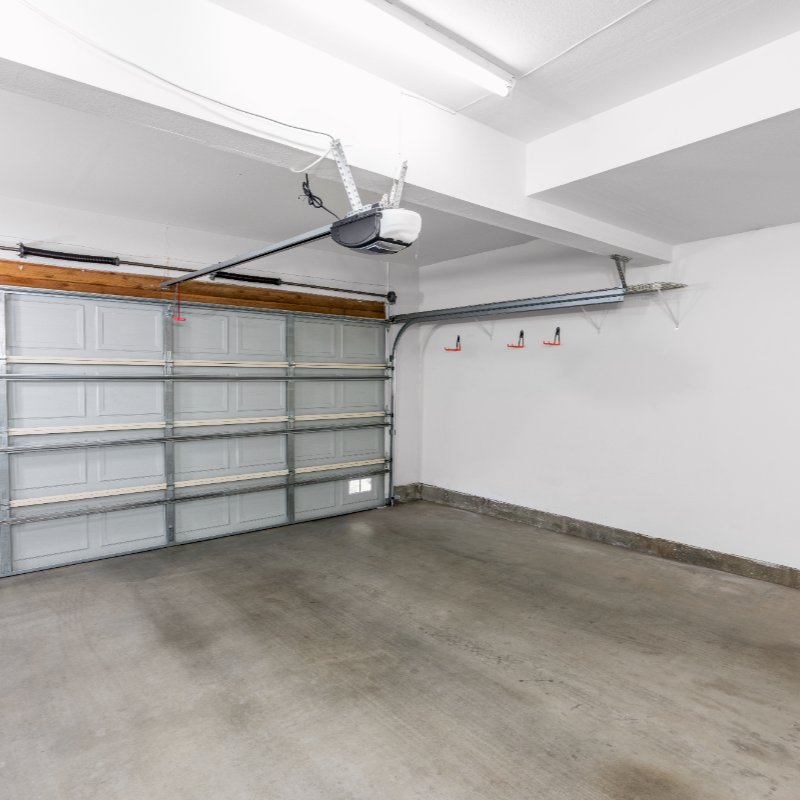 Putting It All on The Floor – How long should a concrete garage floor last?
On average, your concrete garage floor should give you up to 25 years of useful life. By year 20, you'll want to start inspecting it closer for cracks that could indicate any of the problems we've mentioned here. This gives you time to find a professional contractor that knows how to finish a garage floor and can discuss the options available to you.