How can I make my old garage look new?
Garages are often one of the most neglected spaces in your home. They get so cluttered with tools and boxes that you can't park your car inside. Floors get cracked and stained and walls and doors get damaged. The garage can become an eyesore. You don't have to get a full garage remodel, however, to get your garage uncluttered and looking new again. Just a few tweaks here and there can get the job done. Adding vertical shelving is an inexpensive way to quickly declutter a garage. Shelves are a great place, for instance, to store items that you need but only use occasionally.
Putting in storage benches and cabinets open up space and give you a place especially to store tools when not in use, which protect your tools so they'll last longer. Even a small bench next to the door can be an improvement. A bench is a perfect place for muddy boots and shoes to be placed before so you don't track mud inside your home. Painting your floor or adding customized protective coatings can give your garage a new look at a low cost, and you'll find the floor much less vulnerable to damage or staining.
If you are looking to spruce up your garage and want a custom garage remodel in Haslet and Fort Worth, TX, turn to the experts at Custom Garage Works. We provide a full range of services from complete remodels to adding floor coatings and custom cabinets. Find out all we can do for you by calling 214-494-9068.
Are garage conversions worth it?
Whether you need a new bedroom for a growing family, want a place to entertain guests, or want a home office, instead of putting in an addition, some people are choosing to convert their garages into these spaces. This type of garage remodel has its pros and cons. While you may have to install insulation and new wiring or even add a new wall, converting a garage can often be much more cost-effective than a full remodel or building an addition. On the other hand, you lose a major storage space and a place to park your car. 
Do you need a permit to remodel a garage?
While city ordinances vary, building permits are generally needed for any sort of major remodel or renovation project. For a garage remodel you would need a permit for the following:
Any structural changes
Any plumbing work
Any electrical work
Any HVAC work
Any structures added to the property
Anytime you replace windows or garage doors
Activities like painting or repairing a drive or adding cabinets usually don't require permits. Always make certain by checking with your city to find out what permitting is required, as penalties and fines for working without permits can be costly.
How do I redesign my garage?
When it comes to garage remodel designs there are plenty of custom garage ideas to consider. You can do anything from creating a workshop for your vehicles to adding storage or creating a new living space.
Reorganize your garage with a variety of storage solutions from shelving to custom cabinets.
Paint your garage floor and add a protective coating that shields your floor from oil spills and damage from items like dropped tools.
Add a lift like professional mechanics so you can work under your vehicle.
Put in a new garage door
Create a new living space or workspace.
Install an HVAC system for more comfortable heating and cooling.
These are just a few ideas. Check with Custom Garage Works to help you get started with your custom garage.
How to remodel garage floor
One of the most essential parts of your garage is the floor. Whether you plan your garage remodel to create a luxurious space for your vehicles or you want a garage outfitted as a dream workshop, the flooring has to be just right to fit the design and function of the garage. You can choose from various materials to cover the floor from rubber mats to protective coatings or painting to tile flooring. Rubber or polyvinyl mats are some of the easiest to install and require the least prep work. They can be placed directly over the flooring, even over cracked flooring. A variety of protective floor coatings are available, though polyurea polyaspartic coverings are the most durable. Either latex or oil-based paints can give new life to grease or oil-stained garage floors. A variety of floor tiling ranging from plastic and rubber to wood composite tiling is available to cover garage floors. Tiles give you a slightly raised floor and are really good when your concrete floor or slab is severely cracked and hard to repair.
Does finishing a garage add value?
When you finish out a garage remodel, it won't necessarily increase your home's value. A remodel, however, may set your home apart from others with such a unique feature. It will give a home "wow" factor other homes might not have.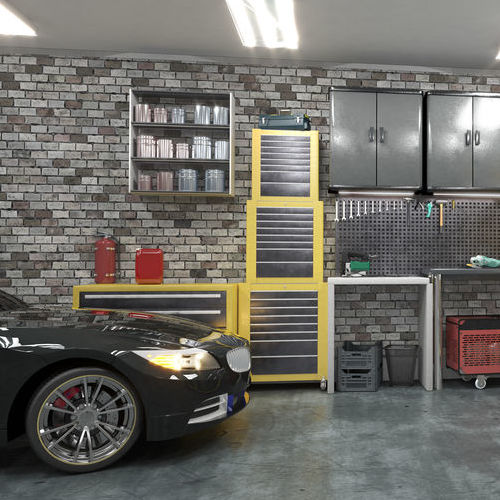 Garage remodel near me
If you are interested in a garage remodel in Haslet and Fort Worth, TX, the professionals at Custom Garage Works provide a wide variety of solutions for you. We can help you select the best designs and features so you can build the garage of your dreams. Learn more about how we can help by calling 214-494-9068.